Project Collaborators, Contributors, and Advisors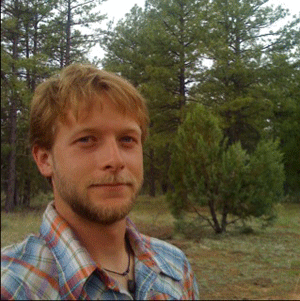 Jeff Birek is a wildlife biologist with the Rocky Mountain Bird Observatory's Science Program. Birek has worked with raptors, songbirds and game birds in seven states and Mexico. At RMBO he is responsible for the HawkWatch program and he is the field crew leader for Monitoring the Birds of the Badlands and Prairies Bird Conservation Region (BCR 17). He also frequently contributes to RMBO's outreach and education efforts. Birek has a degree in Environmental Biology and Management from the University of California, Davis (2003).
www.rmbo.org
Sue Cass
Jack Collom with poetry workshop students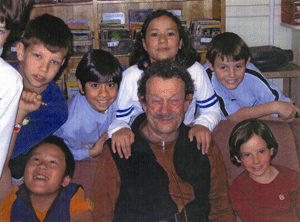 Jack Collom was born in Chicago in 1931 and grew up in nearby Western Springs. He moved to Colorado at 15, attended CSU, studied Forestry, and spent time in the US Air Force ( Libya and Germany ). Collom became a poet - and for 20 years a factory worker. With an MA in English from CU, he has taught Creative Writing and Poetry for more than 40 years. Collom has been a longtime adjunct professor at Naropa University, the founder of their Eco-Lit program (the first such program in the country), and has done much work with children (including three books on and of their writings) and elders. Collom is the author of 24 books and chapbooks of poetry. His awards include two Poetry Fellowships from the National Endowment for the Arts. Collom is especially interested in inventing new kinds of nature writing. He is married to the writer Jennifer Heath and has four grown children.
Photo by Carrie Kenny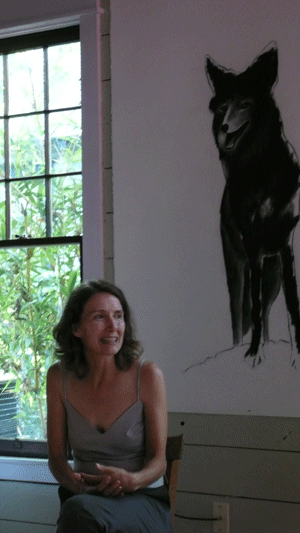 Suzanne DuLany, MFA, is a poet, artist and environmental activist with roots in Austin , Texas. Over the past three years, she has been introduced to some of the flora and fauna of the Rockies, including its amazing bird species. Current projects include Endangered Memory, a hybrid work about her father's loss of memory through Alzheimer's disease; an in-progress piece exploring the bio-region of the Front Range through the perspective of a Crow; and the blog, Humans for Wolves, which collects writing and art in support of the Gray Wolf. DuLany teaches literature and writing at Rocky Mountain College of Art & Design and Colorado Technical University. Her work has appeared in Monkey Puzzle Magazine , Bombay Gin, and the online journal Not Enough Night.
http://humansforwolves.wordpress.com/

Andrew, Ted, and Hannah Floyd celebrating the sighting
of a rare Mexican Duck in the San Luis Valley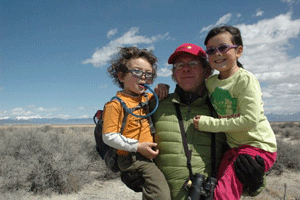 Ted Floyd is the Editor of Birding magazine, the flagship publication of the American Birding Association. He is broadly involved in other programs and initiatives of the ABA and is the author of more than 100 magazine and journal articles. Floyd is the author of three recent books, including The Smithsonian Field Guide to the Birds of North America (HarperCollins). Floyd is a frequent speaker at birding festivals and state ornithological society meetings, and he has served on the boards of several non-profit organizations.
www.aba.org
Photo courtesy of Wild Bird Center website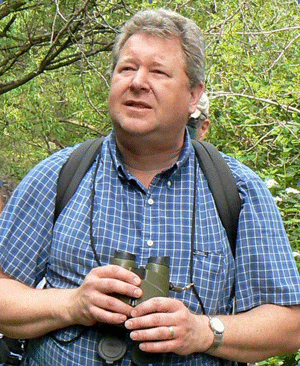 Steve Frye is the co-owner, with Julia Graf, of The Wild Bird Center of Boulder, CO, an important resource for Colorado bird feeding and bird watching. Now in their 20th year, Frye opened the first Wild Bird shop in Colorado on West Pearl in Boulder. www.wildbird.com/boulder
Peter Gent and Flammulated Owlet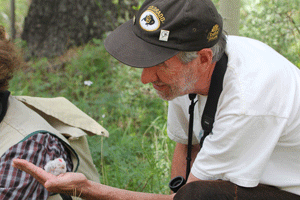 Peter Gent is a Senior Scientist at the National Center for Atmospheric Research (NCAR) and has been an avid birder for more than 30 years.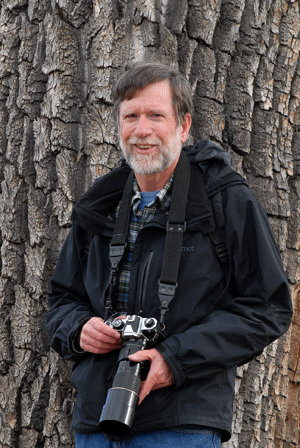 Steve Jones is a teacher, naturalist, and environmental consultant. He is currently Vice President of Boulder County Audubon and a founding member of Boulder County Nature Association. He is author of The Last Prairie: a Sandhills Journal and Owls of Boulder County, and co-author of The Shortgrass Prairie, the Peterson Field Guide to the North American Prairie, Colorado Nature Almanac, and Wild Boulder County. Jones organized the first comprehensive small owl and wintering raptor surveys in Boulder County and helped plan and carry out the Colorado Breeding Bird Atlas. His consulting work includes more than two-dozen breeding bird and resource inventories for city, county, and state open space programs. He has led field trips and taught nature classes for 29 years and he taught in the Boulder Valley Public Schools for 33 years.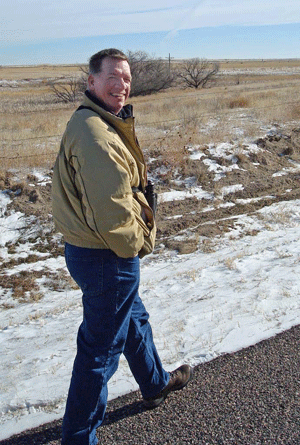 Bill Kaempfer has been birding in Boulder for almost 30 years and has served with most of the local birding groups including the Boulder Bird Club, the Boulder County Nature Association and the Boulder County Audubon Society. Fifteen years ago Kaempfer helped create COBIRDS one of the first state birding Listservs on the Internet. Currently Kaempfer is vice president of Colorado Field Ornithologists. When not birding, Kaempfer is Vice Provost, Associate Vice Chancellor for Budget and Planning and Professor of Economics at the University of Colorado Boulder.
Photo by Jenny Phillips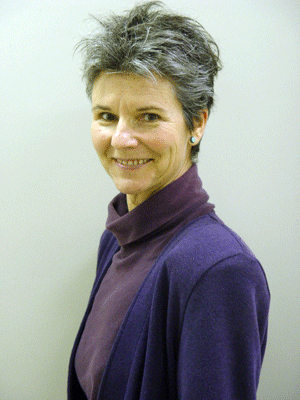 Marda Kirn is the founding director of EcoArts Connections which commissioned Brian D Collier to create Bird Shift, including Bus Birding. EAC strives to speed the shift to sustainable living through transformative collaborations among arts, science, and other disciplines. Activities include performances, exhibits, talks, tours, curating, convenings, and consulting, with projects this year Boulder, Seattle, and Indianapolis, and New York. Previously, Kirn was the founding director of the Colorado Dance Festival, which was considered one of the top three dance festivals in the US during her 14-year tenure (1982-96), bringing in artists from across the US and the world, and recognized nationally for innovation and quality programming. Over her 30-year career, she has been a dancer, producer, presenter and has written for various publications, received numerous awards, and has been a speaker, panelist, and/or consultant for organizations in the US, Europe, Australia, Latin America, and India.
www.ecoartsonline.org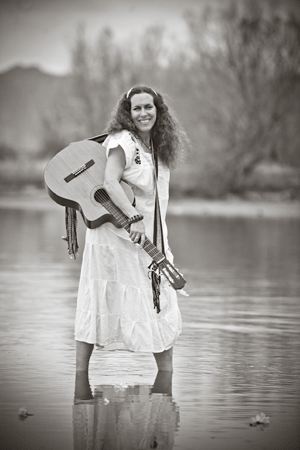 Elena Klaver is a professional Spanish/English interpreter, musician and singer-songwriter, volunteer producer for KGNU community radio, and an avid birdwatcher. She has interpreted in courts, conferences, environmental gatherings, community events, and cultural exchanges locally, nationally, and internationally. Her work at KGNU includes producing ¡Corriente!, a weekly Latin American music and cultural program, as well as producing Hemispheres , a weekly program on news, public affairs, and analysis. Klaver has volunteered with EcoArts Connections in various projects, and enjoys using her skills to further environmental awareness and action . Her first CD of all original songs, titled Promise of Spring , was released in May, 2011, and is available online at www.cdbaby.com or www.elenaklaver.com .
Dave Madonna is a Senior Engineer for Xcel Energy's Valmont Station. He oversees the owl cam program and other bird activities there, and leads the annual "Gullapalooza" each winter, providing an opportunity for the public to enter and explore the cooling ponds around the plant.
http://birdcam.xcelenergy.com/owl.html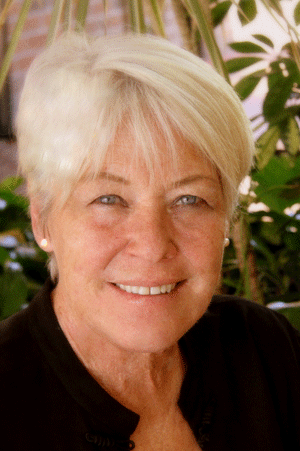 Petrea Mah's interest in nature began when she explored the field and creeks of the northern Great Plains as a child. Later a degree in Zoology solidified her understanding of evolution and the natural world. Coming to Colorado in 1973 she found a whole new set of ecosystems and explored them with a backpack and hiking boots. Mah taught biology labs at CU Boulder and took graduate classes in the Ecology and Evolutionary Biology department. Teaching and a more sophisticated knowledge of ecology allowed her to share the connection to nature that she had loved as a child. Mah is a member of the board and Past-President of Boulder County Audubon Society, a Colorado Audubon Board member, a delegate of the conservation caucus for developing a management plan for the Boulder Mountain Parks, and a volunteer steward for numerous private and public lands.
Photo courtesy of Colorado Public Radio website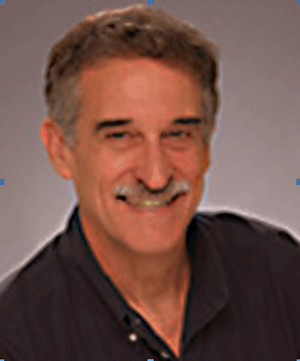 Howie Movshovitz is Director of Film Education in the College of Arts & Media at the University of Colorado Denver. He has been the film critic at Colorado Public Radio since Robert Altman's Buffalo Bill and the Indians, and has been a contributor to NPR's Morning Edition and All Things Considered since 1986. Movshovitz grew up in Trenton, New Jersey, received a BA in English from the University of Pennsylvania, then became a VISTA Volunteer in 1966, and wound up in Colorado, where he still lives. He received a PhD in English from the University of Colorado at Boulder.
http://www.cpr.org/article/Howie_Movshovitz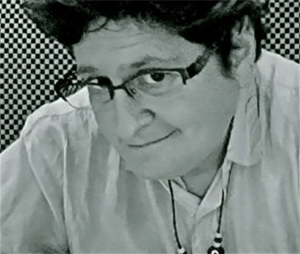 Ellen Orleans is an author, artist, and a big fan of water birds. She is currently writing essays and cut-up poems for Golden: a Pocket-Sized Vision of the Great Outdoors . Her poetry and prose has recently appeared in the anthologies Primal Picnics, The Incredible Shrinking Story, and Milk and Honey: A Celebration of Jewish Lesbian Poetry, as well as the literary journals wigleaf, Palimpsest, Dante's Heart , and Trickhouse . Orleans ' artwork has been exhibited at Spark Gallery and Pomegranate Place in Denver and at the Boulder Museum of Contemporary Art and the Canyon Gallery in Boulder . Orleans organizes the Yellow Pine Reading Series , now in its sixth year, and works for GO Boulder , where she serves as Employee Transportation Coordinator for City employees.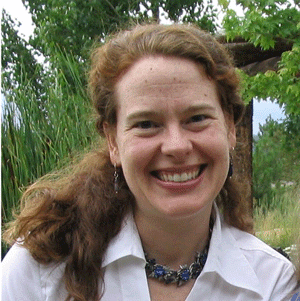 Jennifer Phelps, MFA, is a freelance writer/editor who lives in Broomfield, Colorado and loves to watch birds. A former public school teacher and college administrator, she now facilitates writing and dream workshops. With an interest in the space where Jung's psychology and poetry intersect, she has lectured on her graduate thesis, Mysticpoetics: writing the alchemical self, for the Boulder Friends of Jung. Recent publications include an essay in the anthology Fearless Nest: Our Children as our Greatest Teachers; a book review in Naropa University 's literary journal, Bombay Gin; and poems in Monkey Puzzle Magazine and Green Fuse Press. In addition, Phelps is an Affiliate Guide and Curator for a literary reading series at the Pomegranate Place in Denver .
Rebecca Safran catching a barn swallow
Photo by Kevin Stearns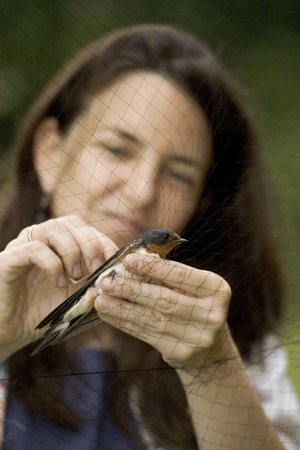 Rebecca Safran has been fascinated by birds for as long as she can remember. Spending a summer as an undergraduate student in an ornithology course at the University of Michigan's Biological Station sealed the deal. Safram is an Assistant Professor at the University of Colorado's Department of Ecology and Evolutionary Biology. Her integrative research program at CU currently focuses on the causes and consequences of biodiversity from multiple scales and levels of analysis including various aspects of biological variation in birds, from genetic, physiological and behavioral perspectives. She is thrilled that her children both love birds and are eager to help in the field!
http://www.colorado.edu/eeb/facultysites/safran/Home.html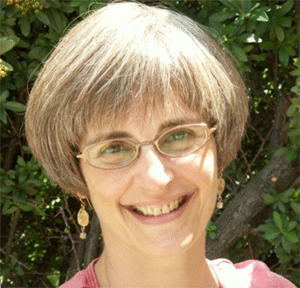 Priscilla Stuckey writes and teaches in the graduate programs of Prescott College in Prescott, Arizona. Her book, " Kissed by a Fox" and Other Stories of Friendship in Nature, will be published by Counterpoint Press next year.
http://thislivelyearth.com/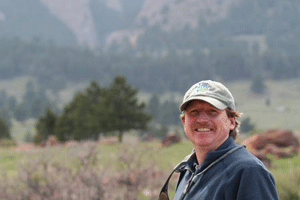 Dave Sutherland is an award-winning field naturalist with the city of Boulder 's Open Space and Mountain Parks department. In addition to working 15 years in the Boulder area, he has led outdoor education programs in California, Costa Rica, and the Galapagos Islands. Sutherland is a self-professed natural science geek who uses games and activities to inspire others with his love of nature. He has been training for his job since the age of four, when he began collecting rocks and butterflies and drawing his own bird books with crayons.
www.naturehikes.org